Tender Coconut Rose Petals Ice Cream. Perfect proportions of milk and cream yield a super creamy ice-cream, the texture of which is further improved by flakes of tender coconut meat and rose petals, which play with the taste buds in every mouthful of this ice-cream. The Rose and Tender Coconut Ice-Cream is a delightful dessert, which can be served just plain! This Rose and Tender Coconut Ice-Cream is the ideal mithai for such occasions.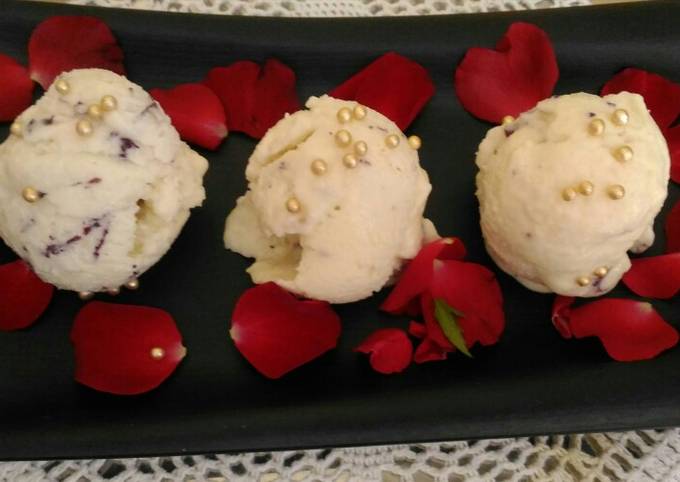 Place coconut milk, salt, vanilla bean+seeds, sugar and rose petals in a sauce pan. Heat until mixture is hot but not boiling. Coconut Vanilla Ice Cream Rose Cooler, which combines of ice-cream, coolness of coconut water and rose, is perfect for a hot summer's refreshment drink. You can have Tender Coconut Rose Petals Ice Cream using 0 ingredients and 2 steps. Here is how you cook it.
Ingredients of Tender Coconut Rose Petals Ice Cream
Infused with edible rose petals, basil seeds, vermicelli noodles, and pistachios, one taste and you're hooked for good. Why stick with vanilla every day when you can try ice cream like this? Just a scoop of our falooda ice cream is enough to kick start summer into full swing. The richness of badam and goodness of coconuts in every scoop..
Tender Coconut Rose Petals Ice Cream instructions
Grind coconut malai,homemade malai and condensed milk into smooth puree.add chopped coconut malai and chopped 🌹 petals and mix gently.Pour ice cream mixture in container cover with silver foil to prevent ice crystals.Keep in the freezer for 6-7 hrs..
After 7 hrs remove from the freezer. Tender coconut with 🌹 petals ice cream is ready to serve.Serve in bowl or plate with scooper.Garnish with 🌹 petals and edible golden balls..
Indian divine treat loaded with a jam made from rose petals. Every scoop is filled with the mesmerising aroma of fresh jackfruits.. Fresh and light ice cream loaded with the sweetness of tender coconuts. This rose ice cream is a smooth, rich, velvety and delicious treat which is so full of dreamy rose fragrance. It is a simple but an exotic ice cream that is delicately flavored with Rooh-Afza, and made without an ice cream maker.